How many ways can we build community? Sharing water, theater, books, music, food, family, arts education or hip hop and "stepping" dance?   Nine speakers and performers each took 20 minutes on Saturday to describe a form of community.
It was the second-annual TEDx North Adams event held in Studio 10 at the Massachusetts Museum of Contemporary Art (MassMoCA). Under rules of the national TedX nonprofit, the North Adams effort, in its second year, was limited to only 100 tickets sold, but next year they'll be authorize to sell more. The Studio B 10 at MassMoCA was organized like a cafe.
Catherine Storing's definition of community: "A group of people with different ideas, backgrounds, goals and dreams who come together in spite of all of that and choose to respect one another in order to make the world a better place. That's a community I would love to be a part of."
Water to Pakistan and the world
Hamza Farrukh, founder of Bondh-E-Shams, says water from the sun, can serve 2,000 people water for a year or more. It's a "scalable and innovative design that we think could save millions of lives over years to come." A Pakistani native and a 2015 Williams College graduate, Farrukh now lives in London.
Farrukh says he puts smart electromechanics and smart energy in a metal box about half the size of a container-ship box and can get one running on site in seven minutes. The box uses a variable frequency drive, to extract water from underground and make it clean with 0.1 micron filtration. One is installed it in his ancestral home in a town in Pakistan.
In a display of what he calls radical transparency – each box on site sends back information about the number of clean glasses of water consumed daily. Each box costs $10,000 to construct, it can serve 2,000 people a day. He says the UN recommends that one person drink eight cups of water a day — or 16,000 cops of water a day — or 5.8 million cups of water per year — for $10,000.
"For $10,000 you can provide a clean cup of water to every person in the five boroughs of New York City," he says — much less than bottled water — and no plastic waste.
"Which is why our team is excited to get up every morning to make the kind of difference I am talking to you about today."   Goldman Sachs gave them money to bring the water boxes to Rohingyan refuges. "But we are nowhere closed to being done. There are 1.2 billion people who still do not have access to clean water and our team wants to reach every single one of them," he says.
When you drink a glass of water, he suggests: "Ask yourself, how will you turn this privilege into purpose?"
Theater as a relationship lesson
Kristen van Ginhoven, founder and executive director of Pittsfield's WAM Theater was so focused on mission that she was blindsided by a failure of community of a personal sort. WAM has produced 12 mainstage productions featuring the stories of women and girls, all written by women.   WAM has also donated $56,500 to 15 local and global organizations concerned with girls education, sexual trafficking awareness, midwife training and more.
VAn Ginhoven says she's learned about the need to include men in discussions about women. About struggling hard and not giving up. And about the inner strength one can summon to go on when things are tough.
Van Ginhoven talks about the discomfort of her marriage breakup — she was a social entrepreneur trying to reduce oppression — how was she reinforcing systems in her own life that were inhibiting equity and belonging? She saw in herself perfectionism, a sense of urgency, a fear of open conflict. "I had to face how I had caused pain and hurt with my colleagues by insisting having things my own way."
"It is not easy, I have to work on it everyday and it is pretty much uncomfortable. But it is worth it!" If someething happens that is racist, sexist, classist, I must continue to use my privilege as power … and try to earn the label of ally by speaking up."
Making a reading community
Accessibility to books is a big challenge, said TedX North Adams third presenter Ty Allan Jackson, a Pittsfield resident and founder of Big Head Books. He noted that in the 1.2-million person Albany, N.Y., metro area — mostly white — there are 21 bookstores. In the 1.4 million Bronx section of New York City — predominantly "black and brown" — there are none, he says.
He is working with celebrities to help create reading awareness and interest among minority children. In 1833 it was illegal for white people to teach black people how to read, Jackson says. Jackson says 85% books published today feature a Caucasian lead character or a nonperson main topic. Three out of four food stamp recipients cannot read above a 4th-grade level, he says.
Black authors have to do a better job of speaking the language of the black child, says Jackson. Miles Morales is now "Spiderman" — a black and Latino man. It means a superhero is noble, has courage, is a positive role model.   But he said the movie Black Panther portrays blacks as generals, scientists, kings.
"I"m saying hip hop artists need to do a better job of pushing the narrative of literacy . . .to have a larger voice." Jackson offered: What if rapper Cardi B could use her brand to show why reading is so powerfully important — reading to her new baby, for example?
Jackson, who is an author, thinks publishers should be looking to black authors to promote books that feature children in contemporary ways — so children of color can see themselves reflected in a more positive way in the world of literature.
Jackson's advice to the public: Find and read books written in the language of today's youth to your children. Read the author bio to those children. "Build a bond and conenction so your children can ideoloize the otehrs they same way they do the hip hop artists and the athletes . . . authors are rock stars as well." 
Music and sound: Community for all
Musician Mark Stewart uses what looks like a vacuum cleaner pipe spinning overhead to make wind chime sounds, asking the TedX audience to tap feet and sing together. He makes a water-dropping sound by popping his finger against his cheek, and the sound of a propeller aricraft through a long bamboo-looking stick. And the sound of an elephant moaning.
A founder of the Bang on a Can All-Stars, he has played guitar with Paul Simon for a decade and performed with Bob Dylan, Stevie Wonder, James Taylor and others. He splits is time between Brooklyn and the Berkshires.
"We need to bring along enough joy to get us through the moments where there isn't any joy.   And music has always done that," he says. But commercialism has commoditized music and he says it shouldn't be that way. "I want to introduce public singing, public sounding, into the realm of human discourse."
Stewart's father was an Episcopal minister. But his mother would say at the start of dinner:   "To whom it may concern: Thank-you." Music is primary, we neglect it at our own peril, he says. He says we can nurture communities with shared music-making. Race, humanity and disagreements then can disappear.
Why, Stewart suggests, has music been appropriated to be used in churches or at sporting events? "What I'm doing in this field is leading some hootenannies … through urban campfires." People all come with instruments and sings and plays, he says.
"If all us who believe in bridges keep building them with music, we can convinced the doubters . . . [because] in music, there are no denominations."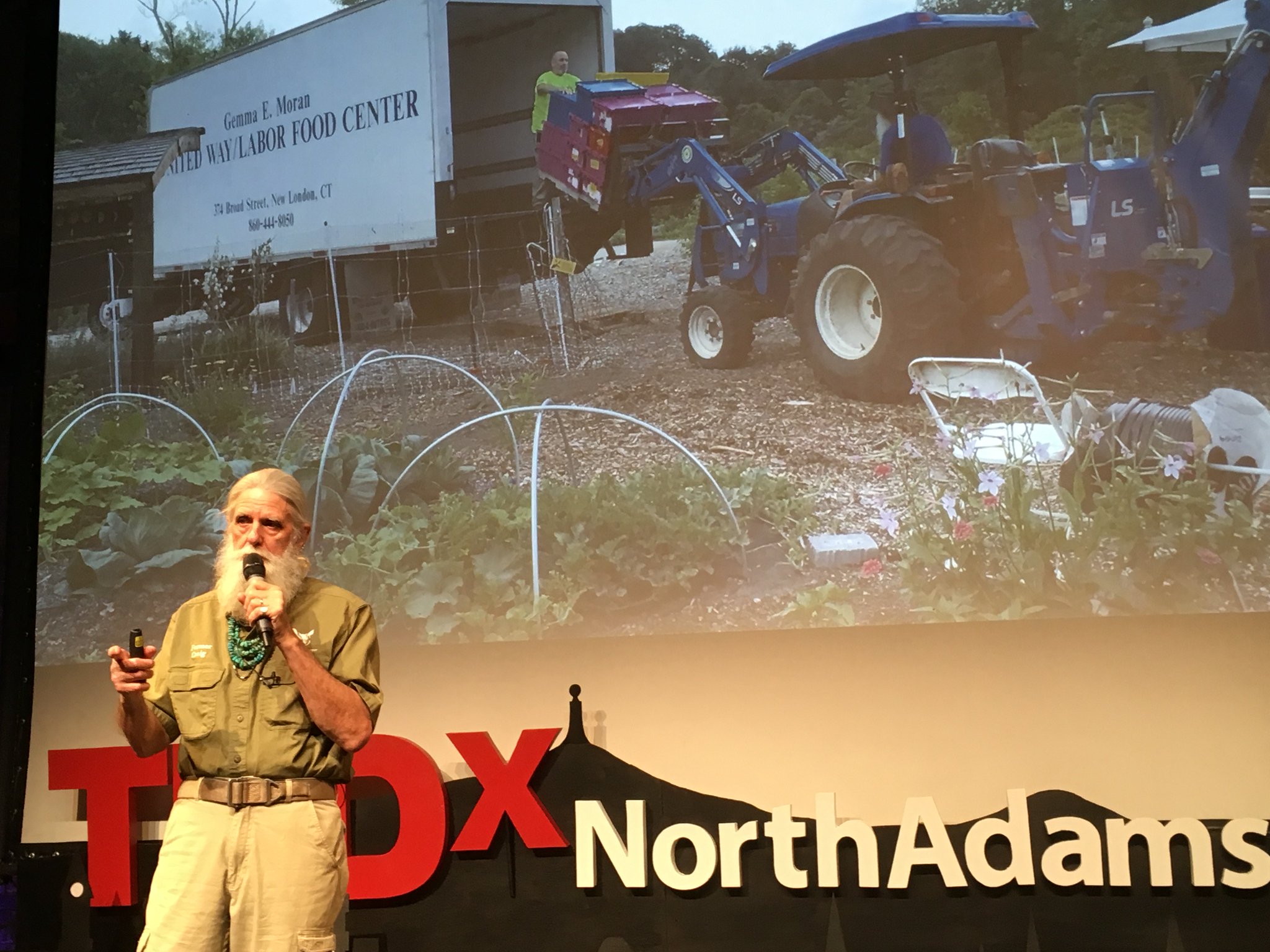 Food as community
Next up: Craig Floyd, farm manager at Coogan Farm in Mystic, Conn. Coogan Farm supports 60 soup kitchens and 23,000 food insecure people with food that can go from farm to table in five hours, Floyd says. He tells stories about people with special needs touched by the power of the garden.
Floyd recalls one conversation he had with a person who was amazed at how well he felt from eating the farm's food, which he said release seratonin. "You are wasted on nature, brother, you just don't know it."   His admonition: "Quit eating chemicals. We are a no-till, no-spray farm."
Family community teaching tolerance
Next: Catherine Storing of Boston — on how we can use conflict to build stronger communities. Community wasn't something she used to think about.   She talked about conflict and getting comfortable – abount finding community with conflict.
I'm human but I'm willing to do better. When we are in community we have to realize that things can be done better. She recalls the decision to lives with her adult sister, and how they worked through conflict together.
How many communities have you been avoid, running from because people don't look like you or vote like you, she asks?   Can you use the seven-key principles she shared to connect with some of those communities?
Storing's definition of community: "A group of people with different ideas, backgrounds, goals and dreams who come together in spite of all of that and choose to respect one another in order to make the world a better place. That's a community I would love to be a part of."
Community arts education – from theater and small town
Next Massachusetts College of Liberal Arts (MCLA) professor Lisa Donovan talks about growing up up in a tiny upstate New York town where her father was a judge and contractor and her brother was the mayor. this community, relationships could be activated in a moment.
Her story is about a family backhoe machine falling accidentally into the Hudson River, and an overnight vigil by all kinds of friends to get it out. Rural areas can create these kinds of relationships, she says.She compares this to her work as a professor of arts management and how art can create community.
She interviewed 14 experts across the country about rural arts education. They all talked about poverty, lack of broadband or philanthropy. But a key asset started to show up too — relationships. And making use of local assets. In small communities it is easier to define common goals she said, and to form mentorships.
Donovan asks: What are our unique community assets in the Berkshires? The environment. A history of famous writers and "cottages." World-renowned culture. Over 50 high-function arts organizations. "If there is anything we should be claiming, it is this," she says.
Donavan says Nat Karnes and the Berkshire Regional Planning Commission helped make fast connections. Created Berkshire Cultural Assets Network funded by Berkshire-Taconic Community Foundation.
Now the question is what should young people in Berkshires have access to? They've created a blueprint with cross-sector help from arts orgs, educators, youth, funders, social-service groups, workforce development groups. They've created BRAINworks – the Berkshire Regional Arts Integration Network.
She says her own youth experience with theater has helped her with this."It gave me leadership skills. It allowed me to sit with ambiguity … and to have tolerance for my mistakes and see them as learning experiences."
A community of cross-cultural dance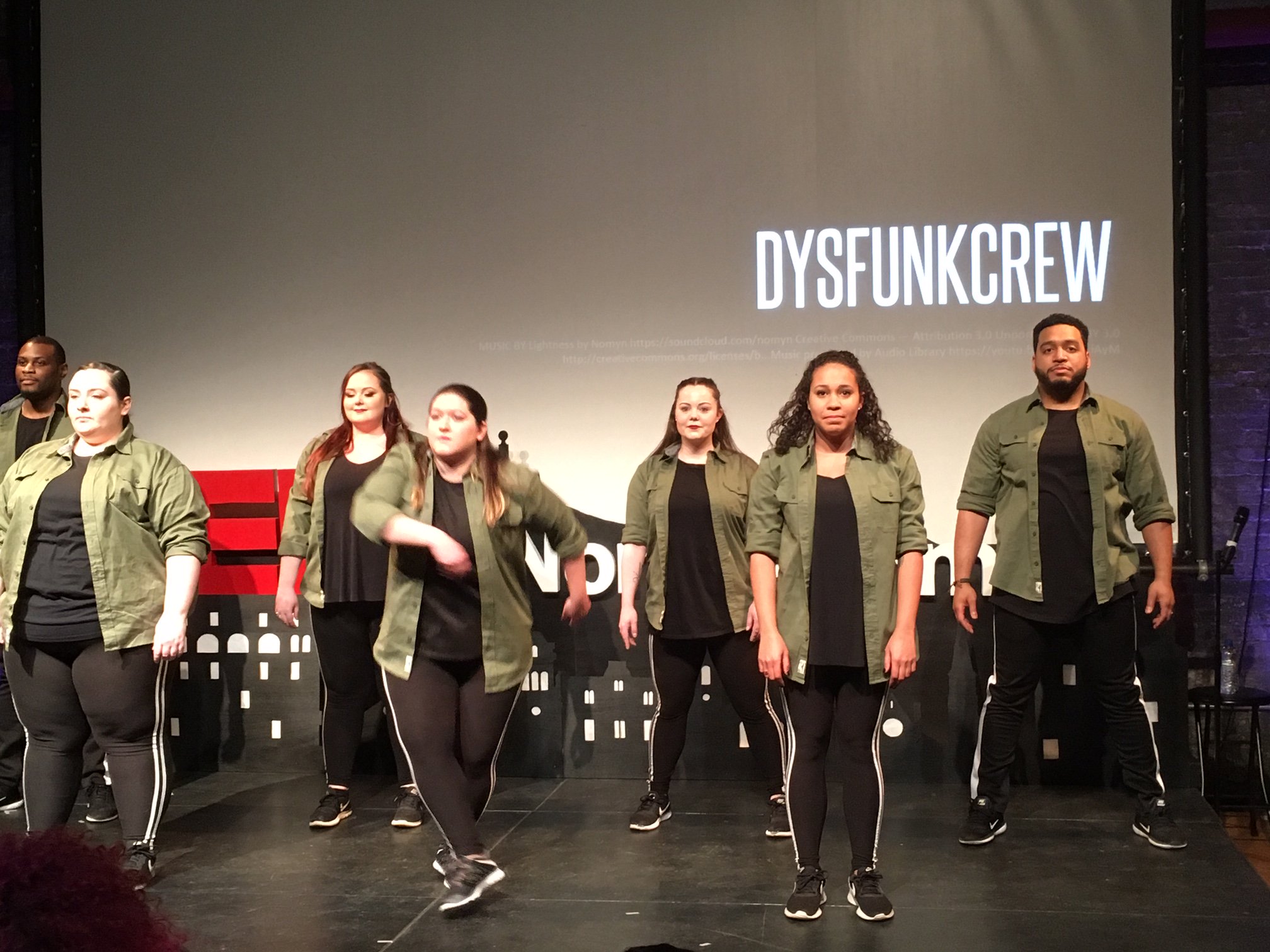 DysFunkCrew, a seven-member group of multiracial dancers who all went to MCLA and ended up staying in the Berkshires for jobs rejoined after graduation. DysFunkCrew couldn't have formed without sociological interaction, members said. They underwent cultural socialization at MCLA as freshmen. At MCLA one member learned "stepping" from another. Now she teaches hip hop at Berkshire Dance Theatre.
Jamal Ahamed, a DysFunkCrew member, now runs a multimedia performance company. A lesson he learned: Reach out to community rather than waiting for the community to reach out to you. Another crew member's advice: Remind yourself you are all great and what you are doing will better the community. What if you've always lived in the same community? "